Multi-Channel Marketing
Only $299 month!
For a limited time, DBN partner Sync Online Media is offering a Multi-Channel Marketing Package which includes Google Ads, Facebook Ads, Bing/Yahoo Management and YouTube at the unbeatable discounted price of only $299 mo! Bing/Yahoo can be intimidating and even confusing. Sync Online Media makes it easy!
Call now at ​1-866-866-7215 or complete the form on this page for more information.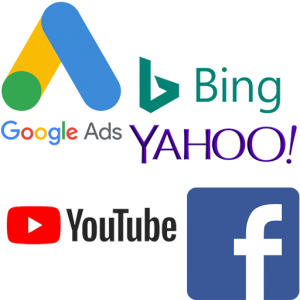 Sync Online Media multi-channel marketing is the practice of using multiple channels to reach customers. Also known as cross-channel marketing, multi-channel marketing makes it easy for customers to complete the desired conversion on whatever medium they are most comfortable with. Multi-channel marketing lets the user decide, giving them a choice on several differnet platforms. Sync will create a large number of touch points on several differnt channels. Touch points can include social media, surveys, email newsletters, mail-in items, etc.
​✓  $299…​​​most affordable service ​available!
​✓  Certified PPC Expert and more!
​✓  20 years ad management experience.
​✓  Managed in the USA! No offshore!
​✓  Review of all PPC accounts!
​✓  Scalable ​service…we grow with you! *
​✓  Flat-fee! No monthly % fee added.
​✓  Full-service creative ​​​boutique ​agency.
​✓  Professional/experienced ad copywriters.
​✓  Dedicated ad manager PPC strategist.
The Multi-Channel Marketing package focuses on the primary online marketing channels, Google, Bing/Yahoo, Facebook and Youtube. Sync uses creative writing, designed images and creative videos to engage your tareget audience and drive traffic to your company.
Call now at ​1-866-866-7215 or complete the form on this page for more information.